Santa Irene Club de Vela Newsletter - 15th May 2008
Awesome Ainslie—Yes Ben has done it again, Gold at the Finn European Championships in Scarlino, Italy. This is his 4th European Gold, to add to his World and Olympic Gold in the Finn Class. Ben was an Optimist sailor that graduated to Lasers, he won Gold in the Laser Radial at the 1993 European and World Championships. Then in the Standard Laser, he won a Silver medal in the 1996 Olympics and a Gold medal in the 2000 Olympics. By 2004 he had moved into the Finn Class and won a Gold medal at the Athens Olympics. We hope all this is good news for the Beijing Olympics, which is only two and a half months away; they start on the 8th of August.

Talking of "Lasers", I' missed out on visiting the Club the Mar, Almeria, for the Copa de Espana regatta at the beginning of May. The three Laser classes, which were involved, came from all the Regions of Spain, possibly more than two hundred boats. What a sight that must have been!

The "4.7" is the Laser with a smaller sail area, the "Radial" has a sail area of 5.76 sq m. and the standard Laser, which is an Olympic boat has a sail area of 7.06 sq m. I hope one day Santa Irene will have some Lasers sailors in the Copa de Espana regatta. The Medallists in the regatta were as follows:

In the 4.7 class:1st Adrian Delgado Padilla from the Canaries; 2nd Miguel Castillo Garcia, Andalucia; 3rd Arturo Naquer Lloret, Cataluna.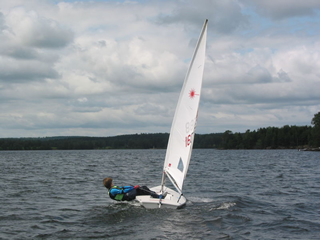 The Radial class: 1st Lucia Reyes Sanchez, Murcia; 2nd Javier Gultian Sarria, Andalucia; 3rd Fatima Reyes Sanchez, Murcia. I guess Lucia and Fatima are sisters; they are from the Club los Nietos, Mar Menor. There are some very good sailors coming from that Club, recently at an Optimist regatta in Aguilas, their young sailors took the first three places. I will be visiting Mar Menor at the end of this month for the Spanish National Catamaran Championships.

Now the Standard Laser: 1st Jesus Rogel Sanchez from Valencia; 2nd Joaquin Blanco Albalat, Canaries; 3rd Jorge Jover Garcia, Canaries. I've been thinking perhaps the 4.7 would be the ideal single-hander for me at 58 kilos; I could then join the youngsters.

On the home front the Big Boys, Club de Vela Garrucha, held their monthly regatta on Saturday 10th of May. I'm happy to say some of our members were involved as crews. Enrique Aguirre, our local Builders Merchant, won the race. Remember to congratulate him when you make your next visit.

Last weekend wasn't good with all that rain about but the chat was good in "El Rincon" things can only get better. We will miss our Catamaran sailors for a few weeks; they have found a much better Playa in the Caribbean!!
The old single-handed Trans Atlantic race, which started way back in 1960 with Blondie Hasler, Francis Chichester, David Lewis and Val Howells, has been renamed The Artemis Transat. This year's event began in Plymouth on May the 11th; they are now racing across the Atlantic to Boston USA

Young sailor or Old salt, come and talk to us any Sunday morning at the Slipway Garrucha.Take Care
John Talliss
Tel : 950 475 157
Movil: 658 548 790
E-mail John@Sailrway.com