I'm not very good at that emailing lark, always hitting the wrong keys and never know what to do with the mouse! So I'm writing this before I leave for the UK on the 7th August.
We were on the water the last day of July, myself, Vic and Jeff on the Drascombe and we anchored just off the playa del Cantal for lunch – I won't bore you with the menu. Paul and son, Mark were on the 470, Jim and Mario on the Hobie Wave. We are now looking forward to September when the season starts and our wanderers return.
Now, this news arrived late, but I hope some of you will have seen the small "Oppie", regatta at Garrucha on Saturday 13th August, organised by Lola and Carlos from the sailing school. Our 4 Optimists will have been there. Back in 2002 it was "Sofia" one of our oppies that won the Regatta. I'm hoping in late September, we can co-operate and have a regatta for several classes of dinghy.
Very slowly we are moving forward, we now have a licence to put a cabin on the Playa, but it's only seasonal!!!!!
There is an article in Classic Boat magazine about King Alfred School in North London, where they have started a boat building and sailing class – sounds good.
Sailing is available to youngsters, in and out of school activities at the Theresa Zabell sailing school in Rota Cadiz. I will visit Rota in October and hope to talk to them – so watch this space.
I've received a brochure from the University of Murcia outlining some courses available in Sports Management etc, etc. so you young people, if you want an interesting and rewarding job, look at their website www.u.es/icd.
Now do you remember reading about Joy and Allan sailing their Tiki 21 Catamaran in the Baltic along the Swedish coast, they are on their way home, this is their latest email (they have no trouble with their mouse!)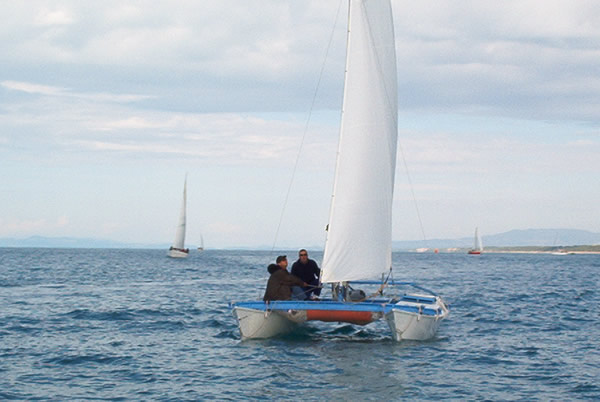 "From Hano, we had an exciting sail down to Simrishamn, round the bottom corner of Sweden to Kaseberga where we visited the 'Stone Henge of Scandinavia' also stopped at Smygehamn the southernmost harbour in Sweden, visited the Lighthouse, once decommissioned but now back in service with just a 60 watt light for local fishing boats. Now making our way through the Danish Islands, weather not very good, wind either light or very strong and from the wrong direction (sounds like the Med) Harbours are very full, but we always try to anchor if possible. Currently in Svendborg, restocking, have crossed the store belt yesterday. Joy and Allan aboard Ham-along"
They did intend to be back in the UK mid August, so I may have the opportunity to meet up with them – they are a lovely young couple
For more information in the Tiki 21 visit: Yachtworks
Look out for a letter from the UK at the end of August. Do you remember Alistair Cooke "Letter from America" he was good! Well don't expect anything like that!
Take care and not too much sun

John Talliss
Tel : 950 475 157
Movil: 658 548 790
E-mail John@Sailrway.com