November 6th Harbour Relay Race

November 22nd Annual General Meeting 20.00 hrs Puntazo Hotel Mojacar

December 9th Annual Dinner & Dance Mojacar

Further information will follow in due course

Pictures from Flottilla sail on Facebook search for Santa Irene Club de Vela

| | | |
| --- | --- | --- |
| | | |
| | | |
Looking back on the year, it´s been the best ever. Not only is the membership up but so is the numbers of Dinghies. 6 new dinghies and surprisingly 3 Cruisers. Ian´s "Blitzen", Sue´s"Magregor ", Rodolfo´s "35 ft classic" and for a time we were invited on to Rose and Steve´s "Beneteau".
We are now looking forward to seeing our 18 ft micro tonner on the water. Stan has taken on the job of a major refit.
One highlight of the year, was been involved in the "IberCaja" Bank Regatta. Ian and his Santa Irene crew abord "Blitzen" came 2nd in his Class. The lady presenting the "Trophies" was from the Andalucian Sports Council. Houri presented her with our Card. We met her again at the Extreme 40 Catamaran Regatta in Almería. Don Alfonso, Jefe of the Port Autority Garrucha, was also involved. We will be thanking him and his Staff with our usual box of Christmas Biscuits.
When we last spoke to him, the programme for a move was still on but there does´nt seem to be a time table.
How about us Dinghy Sailors? We certainly appreciate what we have: a Dinghy Park with water laid on, a Slipway which is almost for our exclusive use and it hasn´t cost us a penny, perhaps we shouldn´t broadcast that.
Our exclusive Club house "El Rincon del Puerto", where we meet each weekend, for coffee etc... even when the weather isn´t suitable for sailing, it is very good for sailors tales and "Swinging the lamp".
Our relationship with the Cruisers of Garrucha Club de Vela can only be good for both of us. I hope one day, we can have a Club house we can share, it´s happened in Aguilas and in Almería. To that end, we must continue to build up our Funds for the time when we are offered something.
I realize we are a small Club relatively unknown in the Levante region. Having said that we are known in other areas via our website. We should make an effort to spread the Word locally.
Thank you for your time.
John
---
Let's be honest, Lynne and I do seem to have a slightly higher capsize rate than most other members of Santa Irene. To some extent, it's something that comes with the territory when you sail a fairly extreme asymmetric, but still we thought there was room for improvement. What better way than to spend a week in Minorca, sailing all day every day, with a qualified instructor, and someone else to rig and de-rig the boat! It looked good on the website; fellow member Nick recommended it wholeheartedly; it had to be done!
So it was that the first week after the English schools go back (and the prices go down) that Lynne and I left our respective spouses behind and headed for Minorca. On arrival on the island, the first impression was of a beautifully scenic place, very green (which maybe tells you a little about the winters there) and pleasingly devoid of construction sites. Reaching Minorca Sailing itself was even better. The Bay of Fornells is a huge shallow teardrop-shaped bay with a narrow opening to the sea, so that it's really more like an inland lake, except that it still tastes like the sea.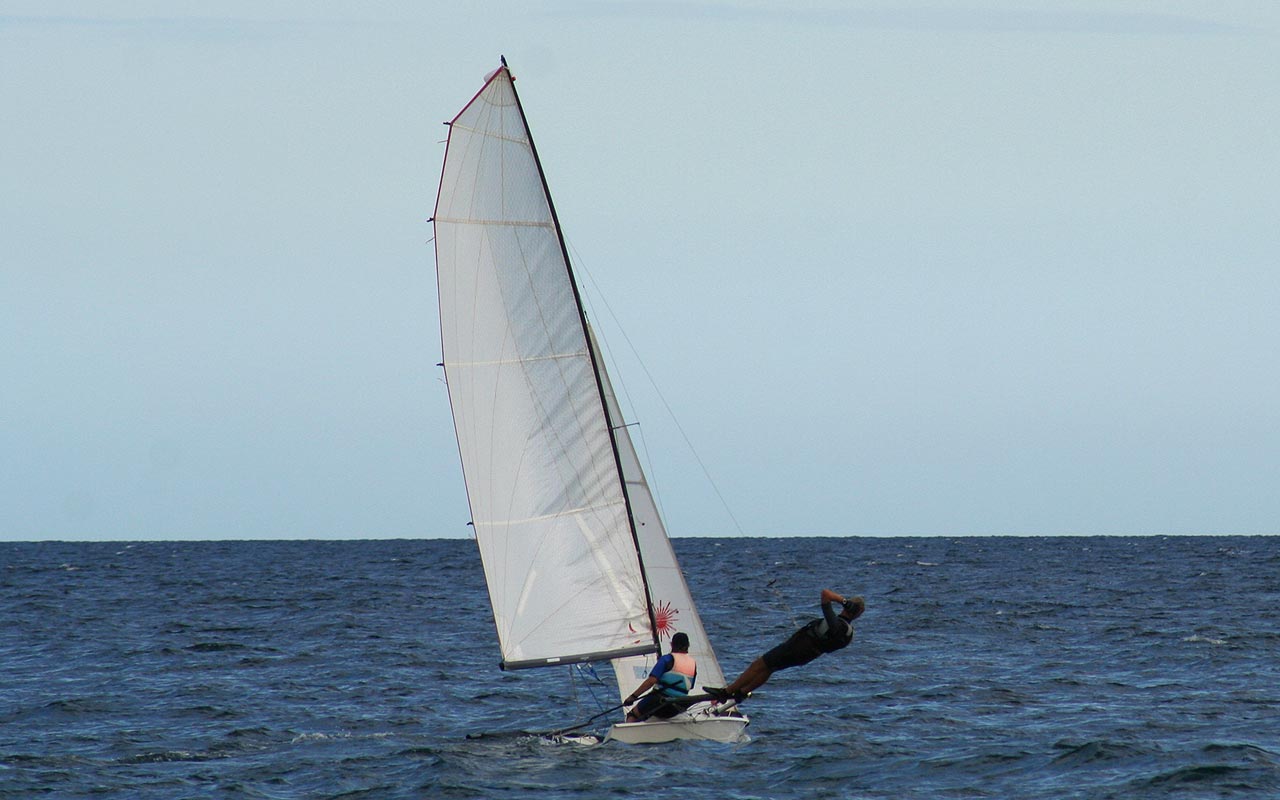 Minorca Sailing occupies nearly all of Ses Salines. The beach is full of their boats, their office is in a front line villa there, many of the apartments and villas are occupied by their clients, so is the hotel, and the local restaurant is the social hub for the sailors. To walk through the dinghy park is enough to make any red-blooded sailor think he's died and gone to heaven. Row upon row of Picos and Lasers and all sorts of others, but what really catches the eye are the most exciting boats. There are RS800s, RS700s, RS500s, Laser 4000s, Musto Skiffs, 29ers and even a 49er, the only boat that must be sailed with an instructor.
Minorca Sailing don't believe in over-hyping things; maybe they're so good they don't need to. They described the apartments we stayed in as basic and dated. While not the height of luxury, it did the job for us and the honesty is to be applauded.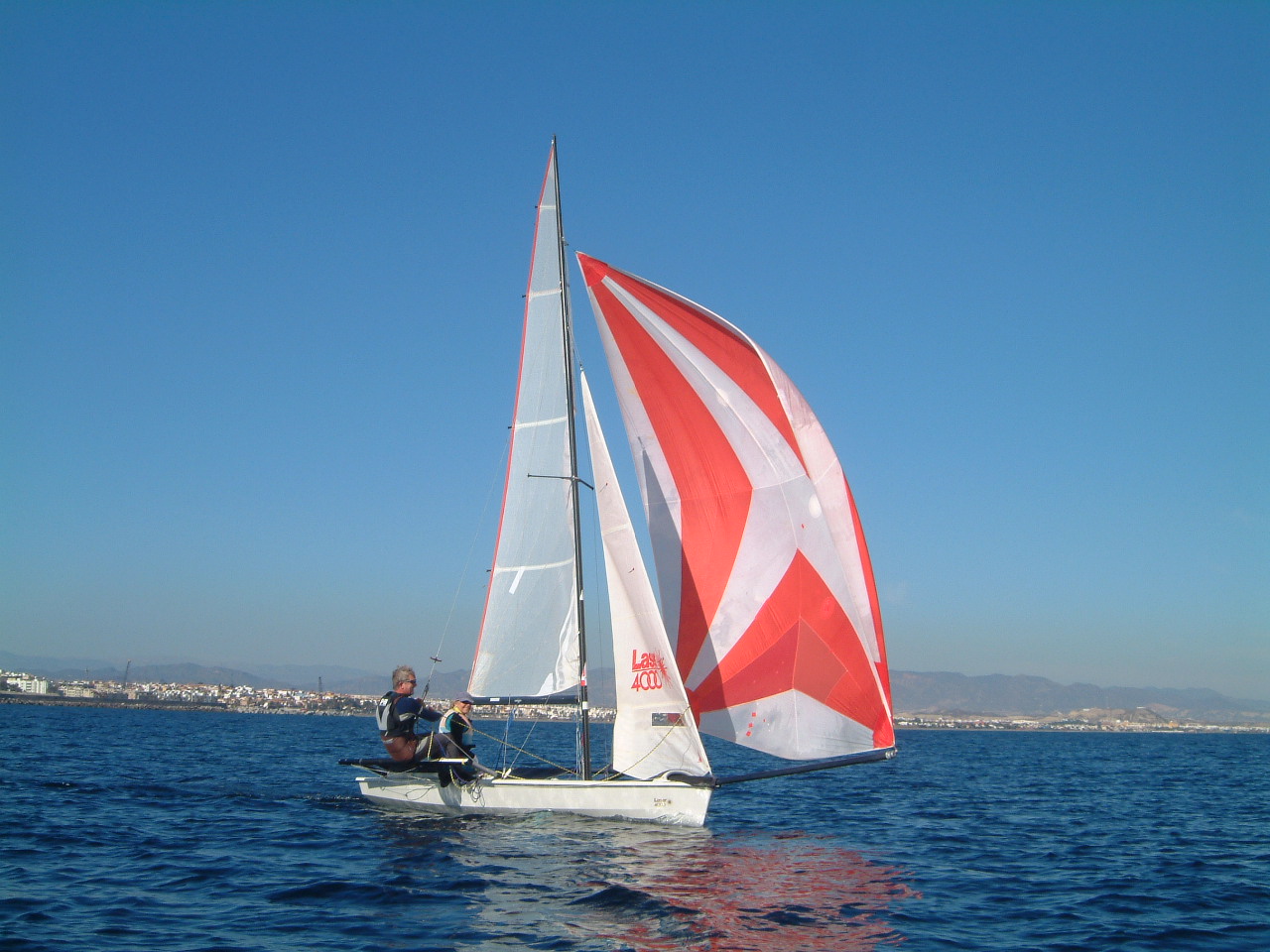 At the start of the week each client describes what they hope to achieve and joins the most appropriate group with its own senior instructor. Lynne and I intended to spend as much time as possible in a Laser 4000 honing the skills that we could bring home to our own boat, so we went into Intermediate Asymmetrics. There were also Beginner and Advanced Asymmetrics, and for those without an interest in kite-flying there were four groups labelled "Laser" though that was just a convenient term and they sailed various other boats as well. I think the wind-surfers were divided up in a similar manner.
A typical day begins on the beach at 10 o'clock sharp. The boats that are expected to be needed are already rigged, so only a couple more may be required for people who have decided to try something different. A short briefing from the instructor and then it's out on the water for two hours, following whatever the theme of the day might be (tacking and gybing, race starts, sail controls, racing rules, and so on). After a break for lunch, the afternoon brings more of the same. The advanced groups race in the afternoon, sometimes the intermediates joined them, and certainly anyone was free to join in the racing if they wanted to. After another two hours of sailing, it was good to get back to the beach to find an instructor waiting in the shallows with our trolley. Put the boat on the trolley and leave them to it. Phew!
Four hours of sailing. Finished for the day? No. This is where it gets really good. Here is the chance for an hour of one-to-one sailing with an instructor. Intensive instruction, or try another boat. The choice is yours. We did a bit of each. Although we were easily able to work through our entire repertoire of sailing mistakes during the group sessions, we seemed able to keep the mistakes, if not the consequences, hidden from our instructor. So one afternoon we signed up to take out the 4K, chased by the ever-smiling, ever-patient Tommy in a RIB. Definitely a lot of learning in a short space of time.
On other days, we used the one-to-one sessions to sample something different. Lynne had a couple of goes at the front end of an RS500 learning to trapeze. She enjoyed it greatly though she hasn't been trying to push me out of my usual space since we got back. I started by playing myself back into the art of driving, with an RS Vision. Safe, easy, but boring. However, that was the lead-up for one of my major ambitions of the week: to try an RS700. If you don't know the 700, it's a single-hander with trapeze and asymmetric kite, and it's quick. Once again my instructor followed me in a RIB, just once dashing ahead to have a word with another boat. Yes, I was on port and they were on starboard, but I had the kite up and was operating on the very limits of my ability (plus a bit!), so would they mind awfully if we just put normal rules aside for the moment and they got out of my way. All this was in a F2 (fortunately), when the RS700 planed easily upwind with me hovering on the trapeze. Downwind I opted to sail low and stay off the trapeze as I was already suffering from not-enough-arms-syndrome while trying to steer, sheet the main and gybe the spinnaker all at once. An absolutely awesome boat: I want one.
On other days, I took the opportunity to crew an RS800 (a very well thought-out boat, it wasn't much different to the 4K in light winds, but I bet it's fantastic with a bit more breeze) and helm an RS200 (a sensible boat with big fleets in the UK, but it reminded me again, I don't like hiking). I wish I'd had more time on the RS700 and could have got the chance to take out the 49er, but that will have to be next time.
Everything about Minorca Sailing is so well conceived. The boats are all in excellent condition and they're ready and rigged for you. The instructors are personable and knowledgeable and seem to have infinite patience. There is never a minute that is wasted, yet you never feel under pressure. In the lulls between sailing, there is always something happening: an evening trip to Ciudadella, a de-brief for whichever group was being videoed, or for whichever group had been equipped with GPS. The GPS idea was brilliant with all the data downloaded to a PC and then shown on a big screen in the hotel bar. There is definitely no hiding place when the GPS is on.
With such a huge fleet of boats, things will occasionally go wrong, and again the guys at Minorca cope so ably. We had the spinnaker rip the first time we hoisted it on the first day. The instructor radioed back to shore while we headed in, and we were met in the shallows by two girls, one with a spinnaker tucked under her arm. Five minutes, and we were back on the water.
The only downside to Minorca Sailing that I can possibly think of, is that the commitment to sailing is total. Non-sailors will find they have a pretty raw deal, with little to do, other than taking the "easy option" sail. Therein lies my problem. I'd love to go back and spend a week mastering the RS700, but what would my wife do? I can't leave her behind every time.
Minorca Sailing really does come highly recommended. Take a look at www.minorcasailing.co.uk but do be sure you spell it with an I. Put in an E and you get something else.
---
A simplified version of the ISAF rules, appropriate for racing at Santa Irene Club de Vela.
SPORTSMANSHIP
Competitors are governed by a set of rules that they are expected to follow and enforce When a competitor breaks a rule they will promptly take a penalty.
i.e. Competitors are expected to behave in a gentlemanly manner Most of the rules that have been left out of this simple version are down to common sense and fair play.
RIGHT-OF-WAY ON OPPOSITE TACKS
Port-tack boat keeps clear of starboard-tack boat.
"Port -tack" means the port side is the windward side. if in doubt, it is usual for the starboard-tack boat to call "Starboard"
RIGHT-OF-WAY ON THE SAME TACK, OVERLAPPED
Windward boat keeps clear of leeward boat.
If in doubt, it is usual for the leeward boat to call "Windward boat!"
RIGHT-OF-WAY ON THE SAME TACK, NOT OVERLAPPED
The boat astern, or the overtaking boat, keeps clear of the boat ahead.
GIVING ROOM
A right-of-way boat must always give the other boat room to keep clear.
ROUNDING A MARK
When boats are overlapped within 2 boat lengths of a mark, the outside boat must give the inside boat room to round the mark.
If in doubt, it is usual for the inside boat to call "Water!". If there are more than two boats, it may be necessary for a call of "Water for x boats!"
STARTLINE PENALTIES
A boat must remain behind the start line during the minute before its start signal. If it passes over the line, it must go around one end of the start line to return to the correct position.
TOUCHING A MARK
If a boat touches a mark, it must get clear of other boats and complete a 360° penalty turn including one tack and one gybe.
INTERFERING WITH ANOTHER BOAT
The penalty for interfering with another boat (typically, not keeping clear or hitting another boat) is to get clear of other boats and complete a 720° penalty turn including 2 tacks and 2 gybes.

---