Jubilee Sailing Trust
What do you know about the "Jubilee Sailing Trust"and the two Tall Ship they have? Last week John Stanton, a Branch Chairman was here in Mojacar to put us in the picture.
The Ships are the "Lord Nelson" and "Tenacious". Two magnificent vesels owned by the Trust, which is a registed "Charity" that promotes sailing and the integration of people of all physical abilities. It does so by offering the challenge of tall ship sailing on board two very special ships, Lord Nelson and Tenacious.
The ships are the only two of their kind in the World. They have been designed and built to enable people of all physical abilities to sail side by side on egual terms. Wheelchairs can be used, there are lifts between deck levels, a speaking compass and power assisted steering to enable people to helm the ship with ease.
Although there is a permanent crew of 8, everyone is involved in sailing the ship: there are no passengers. Not to worry, if you have never sailed before, no experience is necessary, there will always be an experienced voyage crew member on hand to make sure you are happy. Apart from the permanent crew, the voyage crew will number 38 to 40.
On board they operate a Buddy System, which pairs able-bodied and physically-disabled people together. Every one is there to help each other, so the Buddy sistem works both ways. If you are physically-disabled, you can arrive on board along with your Buddy.
The voyage programme for the ships has been organized for 2011, there are plenty of Taster Sailing days, in just one day you can sample the unique experience of sailing a Tall Ship. The freshly cooked food from the galley, helming the ship etc...
What an adventure that would be for the whole family; they allow children from the age of 12 years on those days, other wise, its from the age of 16 years.
This is a note from Judy, voyage number: LN 741
" The voyage was a truly worthwhile experience and I don´t think I have ever laughed so much with a bunch of strangers. Every day had its own magic. JST talks about changing lives and I believe that everyone must grow changing lives and believe that everyone must grow in some direction from the voyage experience (and not only from eating too much of the hearty fare!) The more I reflect on it the more I value the opportunity I had. Thank you!"
We look forward to the day when the Lord Nelson and Tenacious could sail in our waters. The Garrucha Port Authority would welcome them as I´m sure Almeria would too.
We need now to consider the formation of a Branch of the Jubilee Sailing Trust in Spain.
I look forward to hearing from you.
For more info. visit: www.jst-cardiff.org.uk or www.jst.org.uk Tel: 02380449108
John Talliss
Artículo presentado por el Club de Vela "Santa Irene", Garrucha.
¿ Qué sabes de la Fundación "Jubilee Sailing Trust" y de los veleros de Época que poseen?
La Fundación es una organización benéfica registrada que promueve la navegación y la integración de las personas de cualquier condición física ofreciéndoles el reto de navegar en dos veleros de época muy especiales, el magnífico Lord Nelson y Tenacious.
Dichos veleros son los únicos de su clase en el Mundo. Han sido diseñados y fabricados para permitir a gente de cualquier condición física navegar en las mismas condiciones que otros. Se pueden usar sillas de ruedas, hay ascensores entre las cubiertas, una brújula con voz y dirección asistida para permitir a las personas llevar el timón fácilmente.
Aunque hay una tripulación permanente de ocho personas, todo el mundo participa en la navegación del barco, no hay pasajeros. No hay que preocuparse si uno no llevado un barco nunca antes, no se necesita experiencia. Siempre hay cerca un miembro de la tripulación permanente, la tripulación por viaje suma unas 38 o 40 personas.
A bordo operan con un Sistema Buddy o Sistema Amigo, que consiste en que cada persona con discapacidad se le asigna un acompañante sin discapacidad. Todos están ahí para ayudarse, así que el sistema Buddy actúa en ambos sentidos. Si eres discapacitado físico, puedes subir a bordo con tu propio acompañante.
Judy que participó en el viaje LN 741 comentó:
"El viaje una experiencia que mereció la pena y no creo que jamás me haya reído tanto con un grupo de extraños. Cada día tenía su propia magia.
La Fundación habla de cambiar las vidas y yo creo que cada uno debe crecer cambiando las vidas y creo que debemos crecer en alguna dirección tras la experiencia de este viaje. Cuando más reflexiono sobre ello más valoro la oportunidad que tuve. !Gracias¡"
Esperemos ansiosos el día en el que el Lord Nelson y Tenacious puedan navegar por nuestras aguas. Las Autoridades Portuarias de Garrucha les darán la bienvenida, y estoy seguro de que el Puerto de Almería haría lo mismo.
Ahora necesitamos considerar la formacíon de una sucursal de la Fundación Jubilee Sailing Trust en España. Para más información visite: www.jst-cardiff.org.uk o www.jst.org.uk , Telf. 00442380449108.
Santa Irene es un club oficial de vela, miembro de la Federación Andaluza de vela. Fue creado en Mojácar en 2002 y ahora opera desde el Puerto de Garrucha, reuniéndose todos los fines de semana y en vacaciones, navega una variedad de botes y veleros de crucero.
Consultad la web www.sailrway.com o podéis hablar el presidente del Club, JohnTalliss, en el 950475157 o 658548790. email: johntalliss@gmail.com
By Nathalie Jones

A man with a passion, an expression which undoubtedly applies to John Talliss, the president of the Santa Irene Club de Vela. But John's passion for sailing is by no means a selfish one; rather it's something he's invested a huge amount of his time and effort, not to mention money, in sharing with others.
When John first decided to found the Mojácar Playa-based dinghy sailing club back in 2000, his main aim was to bring the sport to local youth. And after a pretty painful process of acquiring all the relevant approvals and paperwork, and with the invaluable help and support of Sharon Penfold and her family, his idea became a reality in June 2002.

Santa Irene Club de Vela is today a Registered Sports Club of Andalucía and a member of the Andalucían Sailing Federation, as well as a member of the Drascombe Association, the Royal Yachting Association and the Polynesian Catamaran Association. And every Sunday at the Playa del Cantal beach in front of Mr UK, novices can learn all about how to handle a boat and experienced sailing enthusiasts have the opportunity to get out on the water.
The club is well equipped to cater for all levels of experience. Dinghy classes sailing at the club are: Optimist, Topper, Mirror, Lark and 470. Catamarans are: a 10ft Kidkat, Hobie 13, 14 and 16 and a Nacra 5 metre. The club also has a sail training boat (the Pasinaca), a traditional 6.6m Yawl Drascombe Longboat cruiser - "Dos Amigos" - in which John and club member Terry plan to visit other clubs to spread the word about Santa Irene. There are even two sailboarders for those who enjoy the thrill of windsurfing. Seaside resorts such as Mojácar would seem the obvious base for a sailing club, but what are the sailing conditions like? John told Levante Lifestyle: "The conditions are a little hard sometimes because it can change very rapidly, but we get as many forecasts as we can from as many sources as we can, and have to make decisions as to whether to sail or not. There are times when it isn't convenient to sail, but dinghy sailing is normally kept to a fairly confined area, so we're not talking about going miles off shore, and we do have a safety boat.
"Also, we live somewhere where the weather and temperatures are much, much better than in the UK, where most clubs curtail things quite a bit in the winter. While the winter months here can in many ways be better than the summer months."
These days John shares the responsibility of running Santa Irene Club de Vela with the other committee members, but despite his 76 years he's just as active as ever, and is constantly building contacts with other sailing clubs or working on new plans and ideas. One of the projects he's currently focused on is his proposal of using the boating lake constructed in Cuevas del Almanzora for the 2005 Mediterranan Games rowing and canoeing trials for training total sailing novices.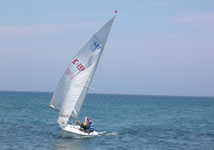 "We've already spoken to the sports councillor in Cuevas and there is a possibility of creating something there after the games. That would be ideal to start complete beginners from the age of eight. I only hope someone will listen to us", John commented.
We hope that dinghy racing Olympic gold medallist and Mediterranean Games ambassador, Teresa Zabell will be able to lend her support to the idea which just may just help swing the balance in favour of the proposal among local authorities.
Then there is the club's ongoing problem of finding a permanent location from which to sail; in the peak summer months Playa del Cantal becomes too crowded to operate from, plus there is nowhere to store all the club's boats and equipment.

"We do have an application in for somewhere permanent on the Playa, and we shall wait and see", John said, adding in respect to why he thinks the club should be supported by local authorities, and even the Junta de Andalucía: "It's another sport, another activity."

In the meantime John regrets the fact the club is not attracting more teenagers, and that the club's facilities can't compare with those offered by the sailing club in Almería city for example, but he adds: "That could come. I realised it wouldn't be easy simply because we hadn't the sheltered water to launch from, which you would get if and when a marina is built here."

On a more personal level, John explained he had named the sailing club in memory of his late wife and "first mate", Ethel Irene. The name had seemed doubly appropriate when John discovered Santa Irene was, as his wife had been, the youngest of three sisters, and had become a saint (the Patron Saint of Peace) as a teenager, fitting in with John's initial ideas of setting up a club for young people.
But how did a born and bred brummie like John become so mad about sailing; after all you can't get much further away from the sea in Britain than Birmingham! John said he had developed an interest in boats from an early age thanks to family holidays in Weymouth, and even though there was a tradition of joining the RAF in his family, he joined the navy at the age of 18, and it was at this time that he learned to sail on 27-foot 'whalers'.
In the 1950s John began racing dinghies with his brother, a sport he kept up for around 25 years, even competing in national championships. "It was a very serious sport for me and my brother, but sadly my brother died young in 1973, and my racing dinghies more or less came to a stop then. Then I bought a small Southerly 28 cruising boat which I kept at Poole in Dorset, and my wife and I became cruising sailors."
When John and his wife moved to Mojácar 20 years ago he'd pretty well stopped sailing, not least because there was little in the way of opportunity to get out on the water: "Mojácar was a quiet area with a community which had no spare money to buy boats with, certainly. They would buy fishing boats, but they weren't sailing as a sport."

So why did John go to so much effort to set up a sailing club in Mojácar, with all the hassle, work and expense which went with it; why not just concentrate on sailing himself?: "We had no family and I wanted to leave something behind, I wanted to do something for the local community. And sailing dinghies is a sport that when a youngster gets involved, the nice thing is they can be in a little boat all on their own, and they're the captain of that boat, and they've got to make all their own decisions. And that's the big thing from the youth point of view; they're having fun, but they're learning all sorts of skills which you can apply in life in general and they're involved with the natural elements, and it all helps to create a better person."
Finally, I asked John what for him is the real satisfaction in sailing: "When you're on the water, away from noise and traffic, the weather's right, you've harnessed the wind and everything's great, well it's absolutely marvellous, it's heaven!"
Santa Irene Club de Vela is for members only, although you don't have to be a boat owner. Also membership is open to everyone, and temporary membership is available to members from other sailing clubs based in Spain or abroad. Anyone interested in joining the club can contact John on:

Tel: 950 475 157 or 658 548 790.
Email: JohnTalliss@gmail.com
For more information see the excellent Santa Irene Club de Vela website: www.sailrway.com
By John Talliss
| | | |
| --- | --- | --- |
| | | Twenty one year old Argan Bailey is an inspiration to any youngster considering making sailing a full-time profession, or any other interest which they are passionate about for that matter. Mojácar-based Argan talked to Levante Lifestyle's sailing expert, John Tallis, about the beginnings of his sailing career and his considerable achievements to date. |
When did you first become interested in sailing?
When I was a child we used to visit Somerset in the school holidays, where we had an inflatable and a sturdy boat which we used to sail down the river Exe. Then in the winter, when the moors flooded, we'd go racing across them – real inland sailing. We also had a couple of kayaks, so we were always in boats.
I'd sail from sunrise to sunset. It was all great fun, and that was really the beginning. Then on one holiday we met the owner and captain of a 120ft tug boat called the Falmouth Bay. His name was Silas Oats, and he was a real character; I could listen to his stories all day and could ask him anything about boats.
He used to let me use the launch, and I could potter about as much as I wanted in return for washing down the boat and keeping it tidy. That really inspired me.
Also Silas had friends who had a couple of classic boats, which perhaps was what started my real love of sailing.
When did you start thinking about trying to make a career out of sailing?
I left school after my GCSEs and got an apprenticeship with a company building sets for films, etc in London. But before starting I had six weeks free, so my friend and I flew to Greece, coming back via Florence, the Riviera, Marseille, Biarritz, Madrid and Tarifa, and sailing and surfing when we could. It was fantastic, and opened my eyes to travelling.
When I went back to London to start my apprenticeship, it was great for a while. But after speaking with the company and my parents, who live in Mojácar, I decided to take a gap year. My mum suggested I talk to some friends in Tarifa who had crewed some yachts in the Med, and they put me in touch with an agency called Crew Seekers.
I spoke to a couple of boat owners who may have thought I was a bit too young and inexperienced, but eventually I met with the new owner of a 60ft Classic who was looking for a young, keen guy to join his brother and crew sailing the boat from West Palm Beach in the US to Gibraltar. He also thought I was a bit young, but after meeting and chatting with him he said I was more than welcome to join them.
What was it like when you got to Miami?
There were six of us in the crew, and we had about four weeks to prepare the boat, which was beautiful, with teak decks and a huge mast. I was keen as mustard, and I was soaking up everything that was going on.
There is a lot of preparation for a trip like this; you don't just head out like you are going on a day sail. Everything needs to be checked, and you are up the mast and down in the bilges.
Tell me about the experience of sailing across the Atlantic
Great from start to finish, beginning with the day we headed out with the waves lifting her and me standing in the bow, just like in Titanic!
We had six days heading for Bermuda and stayed there for four days, making sure we had enough provisions for the next leg to the Azores. Bermuda is one of the most fantastic places I have ever visited, and to be there with all these boats around us and all these characters: single handers who'd sailed their 20ft boats thousands of miles, the rich and famous, and Joe Bloggs who's sold his house and is going for it.
Then we had 12 days at sea to cover the 1800 nautical miles to get to the Azores, during which we had quite a few squalls. But every day there were dolphins, there were turtles and even whales, and we fished for marlins. Then we had a 950 nautical mile passage to Gibraltar, and that was it, we'd done the Atlantic crossing.
I was 17 and over the moon – we went out for an English breakfast and celebrated all night!
How did you follow that achievement?
The original plan had been for me to do the trans-Atlantic crossing only, but the owner said I'd been good company and was a good crewman. I had my "competent crew certificate", and he said I was welcome to stay on board and join them taking the boat to the Balearics for the summer on charter.
It was fantastic: I was paid to be on a beautiful boat. Then in September we took the boat to Valencia to winter, and again I was asked to stay. There were lots of jobs to do, and I learnt a lot about boat maintenance.
So it turned out to be a really great break for you?
Definitely. My knowledge was getting better and better, and I was asked to stay on and do another season of charters. I did another winter in Valenica, and then it was off again for the charters, but unfortunately it is an expensive business keeping a boat of this size, and the owner decided to sell.
The final trip was to deliver the boat to the new owners in Split in Croatia – the end of a two and a half year amazing experience, with 10,000 nautical miles behind me.
Were you completely committed to a career connected with boats by this time?
I went back to London, but all I could think or talk about was boats. I went to the Southampton Boat Show and talked to people about careers, and then talked to my mum, and bless her, she said she'd help me get my Yachtmaster's Certificate. But I wasn't sure I knew enough, so I spoke to Crew Seekers again, and found a 65ft Stay Sail schooner in Baltimore which the owner was taking to the British Virgin Islands.
It turned out there were four other young guys on the boat, all older than me, but none of them knew how to sail; I even had a lot more experience than the owner, and he was over the moon to have me on board.
How useful was this trip in terms of furthering your career aims?
I was much more involved in the sailing of this boat, and it gave me a lot more confidence. Within a day of arriving in St Martin I'd found work on 120ft and bigger super motor yachts, boats which cost around $60 million. Some days I would work with the engineers on the engines, so I was learning even more.
After three great months in the Caribbean, I'd had fun and now I was focused. I was 20 years old and decided I had the experience to go for my Yachtmaster's, which I did in Gibraltar in July last year.
Did you do any special preparation for the Yachtmaster's?
I did a sailing course with the All Board sailing school first, which all went very well. All my knowledge really came out: you need 2,500 miles in your log book to do the Yachtmaster's and I had 12,000, even more than some of the teachers, who would joke that I'd been with too many 'old salts'!
For the Yachtmaster's itself you have an examiner onboard. It takes a lot of hours, although I think within a couple of hours they know if you are competent. At the end of it all he said "congratulations, you are now a yachtmaster", and the next day I was offered three jobs!
Did you take any of them?
The captain of a fantastic 70ft Swedish yacht, worth $1.8 million, had left a note at the sailing school saying he was looking for a first mate, minimum requirement a Yachtmaster's certificate. So I went to see him and he offered me the job.
What was it like sailing this type of yacht?
There are so many things you need to know on a boat of this size: there's a 30-metre mast, a huge sail area, hydraulics, state-of-the-art navigation systems and sonar. You need to know the shut down procedures for the generators, about the engine, the pumps, the batteries, and of course you are dealing with massive forces.
The captain, Richard Bates, is a master yachtsman with a Licence Class 4, and I learnt a huge amount from him, even about accounts, which is essential if you're in the charter business.
When he went back to England for a month he trusted me to skipper. We cruised the west coast of Corsica, and I was 100 per cent focused: I was working, doing something I love and being well paid for it, and I had a pat on the back from the skipper when he came back.
We then headed for Turkey. There were just the two of us on board, doing three hours on and three hours off, but when you were off there were still things to do, such as fill in the log, chart work, cooking. It made me think of Ellen McArthur and how strong she must be. She sails a similar boat on her own, and she's racing. I don't think I could do that!
Would you recommend a career in sailing?
I would definitely recommend it to any young person and I would be happy to talk to anyone who is interested, but you do have to be adaptable and be capable of doing a lot of different things.
Finally, you've done a bit of sailing here in Mojácar with us at the Santa Irene Sailing Club. How do you find taking out dinghies after all your experiences on much bigger boats?
It's very different from going out on sailing boats of up to 80ft, but I really enjoy it. It brings back memories of when I first started.
Argan is currently on a two-month trip, sailing from Florida to Cuba and the Caribbean on a 40ft Moody, before rejoining the Swedish yacht in Athens in March. But if anyone is interested in a career in sailing and talking to Argan, contact us here at the Santa Irene:
Sailing Club on: 950 475 157/658 548 790. JohnTalliss@gmail.com. Sailrway.com