Santa Irene Club de Vela Newsletter - 10th May 2006
Once again we have a cabin on the playa, we'll try and make it look more like a "Clubhouse". it had a coat of paint that Sunday the sea was rolling in and white water everywhere. Now we want a few plants that will grow on the playa and make it look more friendly. Do you remember the cabin that was spirited away one night back in 2003, I hope we can hold on to this one.
The last day of April was ideal for us, Mike arrived with his new "Byte" a single handed dinghy class that is growing fast. The 470 was out, along with the Hobie Cats. I was in the Pastinaca with Layo, a young man that has been cruising and dinghy racing, down in the Canary Islands. He was very happy to be on the water again, Layo lives in Huercal Overa, so our net is wide spread – but continue to spread the news of the Sailing Club in Mojacar to everyone. By the time you read this we will have celebrated our 4th Anniversary with a BBQ and Paella, created by our very own Lisa.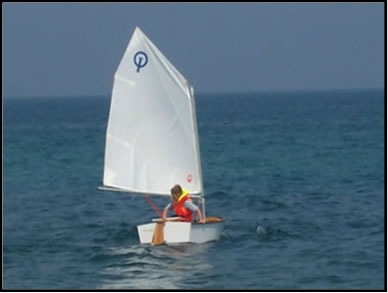 The Optimists are now in the cabin, all we need is the right weather and some youngsters. You may see me in one – 5ft 4ins should fit into 7ft 6ins ok!
This year has started well for the UK dinghy classes, the Enterprise World Championships held in Sri Lanka was won by Richard Estaugh and Pete Rowley in GBR 23160. Then in February, Nick Craig won the "OK" World Championships – down under in Australia, bit of a shock for the Aussies!

The Volvo Ocean Race – By the time you read this, the lads will be in New York having left Baltimore on the 7th for a quick dash up to the Big Apple a trip of 400 nautical miles. They should do that in one day with the right wind. The next leg no.7 will start on 11th May, New York to Portsmouth, 3,200 nautical miles. The Dutch boat ABN AMRO 1 is well in the lead overall, but who will come second?
Time to start thinking of the 32nd America's Cup, on march 2003, Team Alinghi made history, in defeating Team New Zealand to win the America's Cup, they brought the Cup to Europe for the first time in 152 years! Next year 2007, there will be 12 boats competing for the Cup, but things are happening now, remember it's on your doorstep, just up the road at Valencia. The location means its within easy reach of 300 million spectators – but don't go on that day!
I often write about Nautical Tourism, well that's it in a big way, we are struggling to do our bit.
Hope to see you on the Playa del Cantal, opposite Mr UK.


Take Care

John Talliss
Tel : 950 475 157
Movil: 658 548 790
E-mail John@Sailrway.com