Santa Irene Club de Vela Newsletter - 26 April 2006
Easter Sunday – it's one of the best BBQ's we've had said Irene, but then someone always says that, they just get better! Lisa with a little help from Salvador cooked Paella with a recipe from Alcoy, Alicante her hometown – it was delicioso.
More good news the sand is back, more or less, which meant we could launch the dinghies. The brothers Mario and Daniel were first away with their "Snipe", a classic dinghy from the 30's. There is a fleet of them down at Club de Mar Almeria. Paul and Lyn were flying their spinnaker in the light winds, while Vic and Jim were preparing to sail the "Lark" after an extensive refit – thanks to you both, all went well. It was good to see the dinghies on the water as well as the Cats.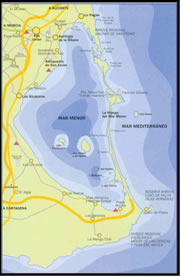 Now, what do you know about Mar Menor, the inland sea in Murcia, I guess its about 12 miles long and 3-4 miles wide. It's shallow, so the big boys don't use it but ideal for the Cats and Dinghies. Thanks to Jeff one of our members who has a small but exclusive campsite near Turre (you can see it on our website) I met up with Maureen and Peter who passed on this information. This year, a sailing association has been formed, known as the sailing Association Mar Menor – S.A.M.M. Fortunately, they have use of the pontoons and slipways at the "Infanta Cristina" Club, or is it a "Nautical College" in Los Alcazares. I will find out more, it would be an ideal weekend sailing venue. Last year Irene, Vic and myself were there for the National Catamaran Championships – more on this later.
Dinghy News – This year marks the 50th anniversary of Jack Holt's "Enterprise" and "Solo" designs and they still remain as popular as ever. Other designs, which preceded them, were Jack's Cadet, GP14 and Merlin, my brother and I raced a Merlin Rocket for a few years. Our first racing dinghy in 1950 was a National 12, can't recall what we paid for it, but the price of a new "Enterprise" in 1956 was £130, perhaps someone will tell me what they are now?
The Volvo Ocean Race – the Big Boys will have finished Leg 5 and be in Baltimore by now. Then, an inshore race to look forward to, in the tricky conditions of the Chesapeake River, before the next short Leg 6 to New York. I will have the results next time.
Last Sunday we had five Spanish couples talking to us about sailing – now that's good news!
See you on the Playa del Cantal, opposite Mr UK.

Take Care

John Talliss
Tel : 950 475 157
Movil: 658 548 790
E-mail John@Sailrway.com
PS – How come 4 of our "girls" were out on the town last Wednesday night and I didn't get an invite!