Letter from the UK – I arrived in Birmingham airport to a warm 22º since then its been mild and sunny with only a couple of days of rain, lots of boats and sailing to see and lovely people to talk to.
Since I was in the Midlands, my first port of call was the Upton Warren Sailing Centre, Worcestershire. It's where I attended a course with disabled sailors 4 years ago, the sailing club were racing with a variety of dinghies. I had a chat with the members, picking up information and passing onto them details of our club.
A couple of days later, Terry the other half of "Dos Amigos" arrived from North Yorkshire and we made our way down to the south coast.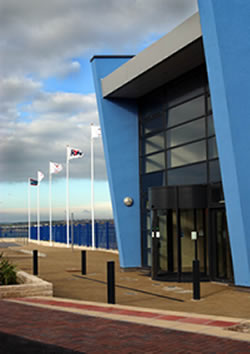 Our first day, the 19th August, we went to visit the Weymouth and Portland Sailing Academy, where we were lucky to see the last day of the Cadet National Championships, the Cadet is for 8 to 17 year olds and it was great to see and talk to the young people, one was Lizzie Halling – the name of her boat was "She Who Dares". The results were 1st Stephen Videlo and James Jopling, 2nd an all girl crew, Kate Allam and Katie Barr, 3rd Ben Cornish and Sam Matson.
Another day was spent looking around Poole Harbour, we were hoping to meet some "Drascombe" sailors, but they were on the far side of Brownsea Island. Never the less we had a good day, Poole Harbour is a hub of activity during the weekend.
It was now time to visit my old club, Highcliffe S.C. at Christchurch, I had heard that two of their young sailors had won the Cadet World Championships, which were held in Sanxenxo, Spain (how did I miss that!) they were James Rusden and Erin Clark. It was a good championship for the UK, 8 boats fitted the top 13 places in a fleet of 72, this all bodes well for the future.
Lymington was another port of call where we met the Commodore of Lymington Town Sailing Club, who invited us to look around – there were fantastic views of the river and the Solent. It was here we met two young ladies, ex cadet sailors now sailing a 470 and may be looking for a warmer climate to sail in this winter. Every one we met had an invitation to visit us and our Email and website address.
Click to enlarge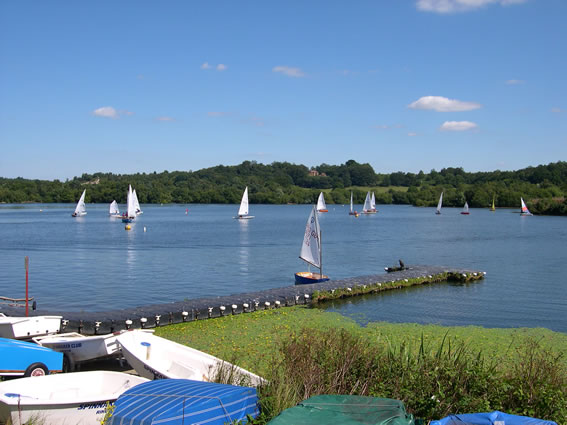 On Sunday, along with friends we had a tour of the New Forest, but not before I had steered them in the direction of Blashford Lake. Now the home of the Spinnaker Sailing Club, it's in a beautiful setting. On the water were Oppies, Lasers, Solos Topers and Cadets. Off the water I saw 8 Access dinghies, ideal for disabled, again we were warmly welcomed by the Commodore, who told me they were in use every Tuesday and Friday. The Access dinghy has been specifically designed for paraplegics, to be sailed by one or two people with limited mobility and balance. Looking to the future, why not use the Cuevas Boating Lake for youngsters and paraplegics – I would be pleased to hear from any one with connections in that direction.
It's the 25th August, what's the weather doing now? You ask – It's a bright and sunny morning after a day of rain and gales. I'll be happy on the 31st, if it's like this! I'll be on the ferry out of Plymouth on my way back via Benidorm, with my good friends Pat and John
A personal note – My sincere thanks to Ann and Robin of Ringwood for looking after two old sailors, I hope they've recovered.
Hope to see you on the Playa del Cantal – we've lots to talk about.
Take Care

John Talliss
Tel : 950 475 157
Movil: 658 548 790
E-mail John@Sailrway.com
I'm not very good at that emailing lark, always hitting the wrong keys and never know what to do with the mouse! So I'm writing this before I leave for the UK on the 7th August.
We were on the water the last day of July, myself, Vic and Jeff on the Drascombe and we anchored just off the playa del Cantal for lunch – I won't bore you with the menu. Paul and son, Mark were on the 470, Jim and Mario on the Hobie Wave. We are now looking forward to September when the season starts and our wanderers return.
Now, this news arrived late, but I hope some of you will have seen the small "Oppie", regatta at Garrucha on Saturday 13th August, organised by Lola and Carlos from the sailing school. Our 4 Optimists will have been there. Back in 2002 it was "Sofia" one of our oppies that won the Regatta. I'm hoping in late September, we can co-operate and have a regatta for several classes of dinghy.
Very slowly we are moving forward, we now have a licence to put a cabin on the Playa, but it's only seasonal!!!!!
There is an article in Classic Boat magazine about King Alfred School in North London, where they have started a boat building and sailing class – sounds good.
Sailing is available to youngsters, in and out of school activities at the Theresa Zabell sailing school in Rota Cadiz. I will visit Rota in October and hope to talk to them – so watch this space.
I've received a brochure from the University of Murcia outlining some courses available in Sports Management etc, etc. so you young people, if you want an interesting and rewarding job, look at their website www.u.es/icd.
Now do you remember reading about Joy and Allan sailing their Tiki 21 Catamaran in the Baltic along the Swedish coast, they are on their way home, this is their latest email (they have no trouble with their mouse!)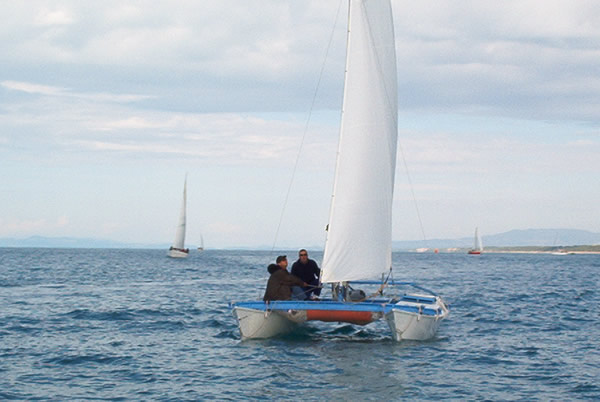 "From Hano, we had an exciting sail down to Simrishamn, round the bottom corner of Sweden to Kaseberga where we visited the 'Stone Henge of Scandinavia' also stopped at Smygehamn the southernmost harbour in Sweden, visited the Lighthouse, once decommissioned but now back in service with just a 60 watt light for local fishing boats. Now making our way through the Danish Islands, weather not very good, wind either light or very strong and from the wrong direction (sounds like the Med) Harbours are very full, but we always try to anchor if possible. Currently in Svendborg, restocking, have crossed the store belt yesterday. Joy and Allan aboard Ham-along"
They did intend to be back in the UK mid August, so I may have the opportunity to meet up with them – they are a lovely young couple
For more information in the Tiki 21 visit: Yachtworks
Look out for a letter from the UK at the end of August. Do you remember Alistair Cooke "Letter from America" he was good! Well don't expect anything like that!
Take care and not too much sun

John Talliss
Tel : 950 475 157
Movil: 658 548 790
E-mail John@Sailrway.com