Santa Irene Club de Vela Newsletter - 7th November 2007
Tuesday October 30th at last here I am on an Express coach on my way home. I'll be travelling the long way, via Ringwood Hampshire to stay with my dear friends Ann & Robin for three days. I must say the autumn colours of the English countryside are beautiful but I'm missing the warm sunshine of Mojacar.
Between my visits to Selly Oak Hospital I did manage to spend an afternoon at Bartly Green S.C. where the mature members race Solo's. On a Wednesday afternoon you will usually see more than a dozen; they start a race every 90 minutes, Oh! And serve tea and biscuits to the spectators – very hospitable.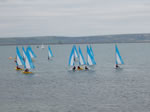 It's not too far from Ringwood to the "Weymouth and Portland National Sailing Academy http://www.wpnsa.org.uk/ so on 31st with a superb picnic prepared by Ann and Robin as our chauffeur we soon arrived there. No national championships taking place but a bus arrived with children from the local school. After some words of wisdom and instruction from the teaching staff they were soon on the water, dressed in their wet-suits.
The centre is well equipped with Laser Picos, an ideal boat for beginners, can be sailed by one or two crew. They certainly looked to be enjoying their day, Portland harbour is ideal.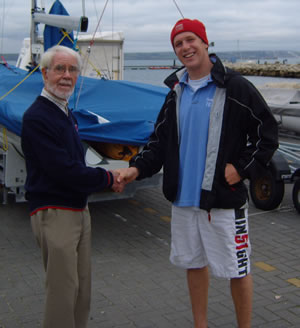 The Academy is for all sailors, beginners and Olympic sailors. Also situated there is "Laser Sailing" http://www.lasersailing.com/, a teaching establishment with a full range of Laser dinghies. I was soon looking at the SB3, the 18' sports boat and talking to James an enthusiastic young sailing instructor. We popped our head into the office to say Hola to Dawn and Emma and leave them with our website address. An SB3 I do mention from time to time is the "Maclaren team", it's the only all-woman team on the racing circuit. Four girls who very often beat the lads – sorry we didn't get to meet them and I didn't get a sail.
Very close to the Academy is "Full Force Boat Building" a company established by Linton Jenkins a highly respected dinghy specialist. If you want a foiling kit – he's the man to talk to, the latest is for the RS 600. I've seen the photos and they are flying. If you want to know more look at his website http://www.fullforceboats.com/.
The Barcelona World Race will now start on the 11th November. I guess they have been waiting for all nine boats to arrive. The British entry "Hugo Boss" with skipper Alex Thomson and Andrew Cape, there is a crew of 2 left Portsmouth last month. The Spanish entry is "Estrella Damm", the name of Spain's most important brewer. Guillermo Altadill the skipper is a "home town boy" from Barcelona, so he'll get a good send off.
This year I will miss my visit to Salvador and the Barcelona Boat Show, its starts on the 3rd November.
I'll be flying out of Stanstead Friday morning, if all goes to plan – see you on Garrucha slipway on Sunday morning, the 4th November
Take Care
John Talliss
Tel : 950 475 157
Movil: 658 548 790
E-mail John@Sailrway.com