Santa Irene Club de Vela Newsletter - 14th June 2007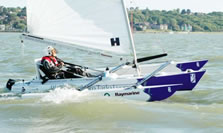 What a week this has been, what a fair mood I'm in, it's almost like being in love! It all started with a phone call from Brian, a disabled sailor, his problem is Multiple Sclerosis. Like all the disabled sailors I met when I did a course with the R.Y.A. back in 2001, his outlook is very positive. Sailing is for ALL, in the past I've written about Hilary Lister, a totally disabled young lady who was the first to sail solo across the Channel using the sip and blow technology to control sails and rudder. Brian has been sailing his 15ft "Challenger" Trimaran for the past 6 or 7 years on the lakes at South Cerney, Wiltshire. The "Challenger" designed by Rod McAlpine-Downie in 1980 is built by Anglo Marine Services, look at their website: www.anglomarineservices.co.uk or write to the class secretary Annie Goldsmith, 11 Castle Rise, Belmesthorpe, Stamford, Lincs, PE9 4JL.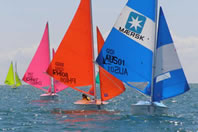 The dinghies we were sailing on the R.Y.A. course were "Access" dinghies – I sat along-side the disabled sailor with the tiller-joystick in front of us. The last time Salvador and myself spoke to the Mayor of Cuevas – re the Cuevas Lake, we pointed out not only could it be used for young "Optimist" sailors, it was ideal as a starter for disabled sailors. If you have any thoughts of trying to get the disabled on the water, give me a call. I would love to see a "Challenger" or "Access" dinghy sailing here or on Mar Menor under the banner of "Santa Irene". With the opening of the new motorway, Mar Menor isn't that far away – remember to think positive! Thank you Brian for your phone call and our meeting, I hope one day soon you will be sailing with us. Remember the "Para Olympics" are only a year away, I must find out more about the Spanish team.
More good news, a "Wayfarer" dinghy has come our way; it's the dinghy Hilary Lister was strapped into for her first sail. This is an all round family boat, a proven sea-kindly boat used for training, cruising and racing. It was on the water out of Garrucha with Layo on the helm and surprised Lynne and Paul in their Laser 4000 with its speed. I regularly sailed one at Emsworth in Hants and Rock in Cornwall – I always had a sailing holiday in the 60's. Yet another boat to come from Agua Amarga – a "Cadet" designed as a racing boat for two young people from 8-17 years old. It has been sailed by Simon at 14st as a single hander. This is not any old "Cadet", it was owned by a very successful young racing helmsman and bought by me in 2001. I recall the transaction took place at a service station on the M6. Young Peter moving to a "405", one of the few mono-hulls built by Hobie Cat. So the "Cadet" is now back with us just waiting for two young people to sail it. If you want to see them in action, visit Club de Mar, Almeria – most of them are new.
We now have the rigging instructions for the 17ft 6in "Osprey" so it's not so far from the going on the water – when it happens say a big thank you to Victor of Vera for restoring it. I can't wait to show it off at the Club de Mar, Almeria and hope that Nick and Helen will be with us. Nick is our "Osprey" sailor in the UK.
I just hope your week has been as good as mine. Come and talk to us – Sunday morning Playa Del Cantal opposite Mr. UK. Vic will be there with the Cats. I'll be at the slipway in Garrucha with the mono-hulls and Ducks.
Take care
John Talliss
Tel : 950 475 157
Movil: 658 548 790
E-mail John@Sailrway.com