Santa Irene Club de Vela Newsletter - 25th October 2006
Hola!
" The Great Wall of China" couldn't keep our lads and lassies out of Qingdao, the sailing venue for the 2008 Olympics.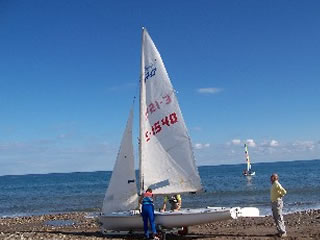 They returned home with a haul of eight medals. Ben Ainslie is back! Winning in the Finn class with nine wins out of eleven races, despite being out of the class for a year due to his commitments in the America's Cup, Nick Rogers and Joe Glanfield in the 470 Class did one better than at Athens, taking Gold. There is no truth in the rumour, they were using Lynn and Paul's 470! The Bronze medal was won by Nic Asher and Elliot Willis. Paul Goodison took Gold in the Laser. Then, another Gold to Chris Draper and Simon Hiscocks in the 49er fleet. Iain Percy and Steve Mitchell took silver in the Star class, a little disappointed they were in pole position going into the last race.
The ladies – bless em! did their bit with Penny Clark taking Bronze in the Laser Radial class, it's the new Ladies single hander. The three girls in the Yngling with only four days training and a practice race, finished second after 10 races to secure a Silver medal. The eight medals, made GB the top nation once again. Not a "dickie bird" on the sports pages of the national press or did I miss it?
This was a pre - Olympic event there will be another next year, so who's going to join me – I think Santa Irene should be there – don't forget your T-shirt.
Now! what boat should we take with us? I gave you a clue two weeks ago. The SB3 Lasers new sports keel boat, it's 20ft or 6m and a bit, with a crew of 3 or 4, crew weight 270kg, a sit in boat with gunwale bars to prevent hiking. So you don't have to be super fit or a gymnast. With a Gennaker of 46m² in a good breeze down wind I'm sure it's capable of 20 knots. It's the fastest growing sports keelboat in Europe, I haven't heard if there is a fleet in Spain yet, but numbers are well over 3000. Now with a boat like that I could get back into racing. Want to know more? Phone Laser and mention my name, it's 0044 (0) 1327841600.
How about our Olympic sailors here in Mojacar, On Sunday the 8th we were out with a race to the Indalo, unfortunately the wind died – nada – so it was a tow back to Playa Cantal to enjoy a social afternoon.
Then on Columbus Day the 12th, 16 of us were out on the water, it was good sailing with a BBQ to finish the day. Last Sunday the 15th saw another good day with two handicap races – unfortunately, my watch stopped so the handicaps went to pot and I awarded two wins to Jim and Cheryl, well Jim's Hobie 16 was the first to finish – well done Jim, Oh! I recall Tony was your crew second time around. It was all good fun, an enjoyable day. More good news, we could have 5 Hobies on the water next week and there's more, Lindy and Frank are back – sorry I didn't meet up with Jo!
It's the Barcelona boat show – 6th to the 12th November, remember I'll be at Harmony Gym for the fun run November 5th, come and talk to me, or meet with us on the Playa Del Cantal opposite Mr UK every Sunday from 11am.

Take care
John Talliss
Tel : 950 475 157
Movil: 658 548 790
E-mail John@Sailrway.com